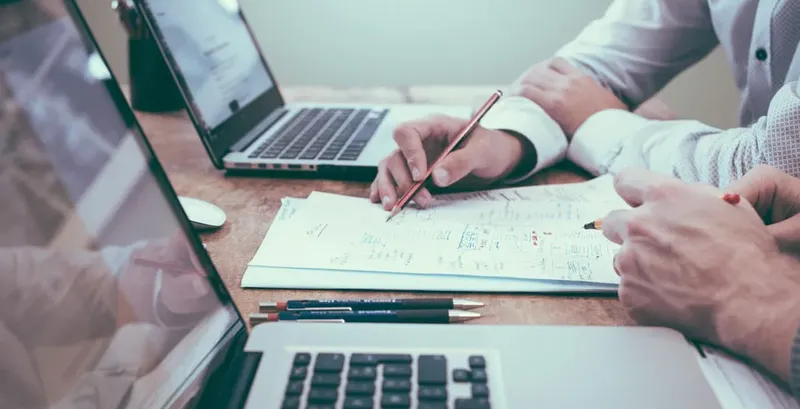 What's inside
01 Body leasing / Team leasing
02 Team extension and dedicated team
04 What is Software Development Life Cycle and why does it matter in outsourcing?
If you're looking to develop a solution with a software development agency, you can take advantage of different working models. The differences between them might seem subtle at first, but they actually have a huge impact on the pricing, attitude, and added value of your service provider.
Consider your project requirements and what your business needs first. Then choose the best working model for your company by following our comprehensive guide.
Body leasing / Team leasing
Body leasing (team leasing or body shopping) is a form of outsourcing where the software company acts as the intermediary between your company and the development team.
This model of cooperation is usually chosen by companies looking for developers who would meet specific project requirements but don't want to lead the programming process. The software company arranges job interviews to verify the candidate's technical and soft skills. Candidates are sometimes verified during technical interviews carried out by the client. If successful, the developer starts to work for the client exclusively, usually at the client's office.
The software company is the actual employer of the developer in question. That's why it's responsible for the administration, payroll, etc. This model operates on a commission basis.
Pros
Body leasing is probably the fastest hiring option, which makes it a great advantage for big companies. A software company usually employs skilled recruitment specialists who can quickly choose a bunch of interested candidates. Since software development companies have access to so many experts, they can move team members between different clients and projects easily.
Cons
Choosing this working model is only profitable if your project is large enough to require a high number of developers, fast. Another problem with body leasing is a matter of motivation and team spirit. Such employees may not have all the in-house benefits or identify themselves as team members. However, experienced service providers have processes in place for helping such developers to become an integral part of the team.
Is the team leasing the right working model for me?
Team leasing is a good software development model if your company is under severe time pressure and needs to add developers to the project as fast as possible. If flexibility is increasing and decreasing the number of team members is important to you, consider team leasing. Also, if your company works on difficult projects and keeping employees in-house is a struggle, body leasing might be the way to go.
Team extension and dedicated team
Team extension (team augmentation) and dedicated team software development models offer software developers who work full-time exclusively for one client but are hired by the software company.
The extended team model helps to address the problem of insufficient manpower. Tech leadership and project management usually stay on the client's side. The software development company provides the know-how and experience gained from other projects and encourages developers to demonstrate a proactive attitude.
The dedicated team model is based on setting up a more autonomous team of developers. Tech leadership and project management are the responsibilities of the software development company. A dedicated team works full-time for one client exclusively.
In both of these software development models, the agency takes care of employment issues such as benefits, office space, hardware, holiday leaves, work tools, but also professional development, well-being, and team building. Developers are usually more committed to the company because they work in an environment conducive to their progress.
Developers can be either recruited for a specific project (team leasing) or chosen from the internal resources of a company. We believe that the second option offers a higher chance of hiring skilled and proven experts in software development. That's why we have developed unique company standards for the recruitment process to hire the most qualified and versatile developers.
Pros
A software development company that offers team augmentation services and dedicated teams usually provides added value based on past experiences and gathered know-how. When it comes to pricing, these software development models are almost always cheaper than in-house recruitment. While the initial cost may seem comparable in relation to the salary of a local in-house employee, don't forget that the provider pays for the workplace, equipment, benefits, administration, and other overhead costs. Experienced software development companies also care for employee development. All of this is possible while maintaining flexibility in the recruitment process and scaling the team up and down to match the changing project needs.
Cons
What can become a problem with both team augmentation and dedicated team? Remote cooperation. Communication or project management will require some extra effort, but experienced providers have processes in place to streamline collaboration and keep all the project stakeholders in the loop.
When to choose a dedicated team or team extension?
Team augmentation and dedicated team are software development models are perfect for med- and long-term projects. If you need committed developers to work closely on your project and value for money is an important factor for your business, this is easily the best solution.
Project teams
With project-based cooperation, you set a goal to be accomplished by the team within a specified time and budget. This working model works best if you want to outsource software development completely and let another company take care of your standalone project. For example, an enterprises organization often outsource Proof of Concept or Minimum Viable Product projects to other companies because their internal resources are engaged in other, more mission-critical activities.
When you know what you want, you can assign the task to a software development agency with multiple competencies. Such projects are usually independent of your daily operations. Cooperation costs are based on fixed-price or time and material pricing models.
Pros
The company will provide added value to the project through its experience of working with other companies on similar solutions or in the same industries. The company can offer not only on-demand availability, but also access to a range of special competencies such as product development, UX/UI design, web or mobile development, IT consulting, and other parts of the software development process.
Cons
The major drawback of this working model is its price as it's often higher than other solutions. However, there's a reason for that. Developers may be assigned to a project only for short, irregular periods of time. And since the project is carried out by the software development company alone, it generates more costs. The provider has to engage more developers without settling into long-term cooperation, which might be pricey.
Is the project model for me?
The project-based model works best for small projects. It's a good option if you'd like to work with a partner that has broad technology competencies, and you need flexibility in choosing them. Also, if you're looking for specialization in specific areas, you can choose a software company based on its know-how, quality of work, and relevant experience. Finally, the project model is a great solution if you don't have your internal IT teams, and outsourcing is the only option.
What is Software Development Life Cycle and why does it matter in outsourcing?
The Software Development Life Cycle (SDLC) refers to the process of building software that ensures the high quality of the final product. SDLC includes a detailed plan that explains how to plan, build, and maintain a software solution. Every phase of SDLC has its own process and deliverables.
Here's what you need to know the impact of SDLC on software development outsourcing:
Your project timeline will depend on the development methodology.
Large, complex software requires development life cycles that ensure a careful and accurate approach to building solutions, with a focus on the planning and documentation process.
Small and low-risk software can be easily built using even ad hoc programming methods where hands-on code writing brings the final result.
Methodologies like the agile model of software development minimize the risk of finding bugs during the later stages of development, which decreases the costs of development. The waterfall approach doesn't offer such opportunities for early testing of the application.
The development process needs to meet the budget, timeframe, and resources available - and certain trade-offs made in the process may affect the software security. Some software development life cycle models place more importance on security during the planning and implementation phases to mitigate this.
The takeaway
Consider the requirements of your project and your long-term business needs when choosing the best working model for your company.
Get in touch with us if you need help in choosing the right working model for your business. We help companies from different industries meet their technology needs with careful planning and choice of the most appropriate working models.