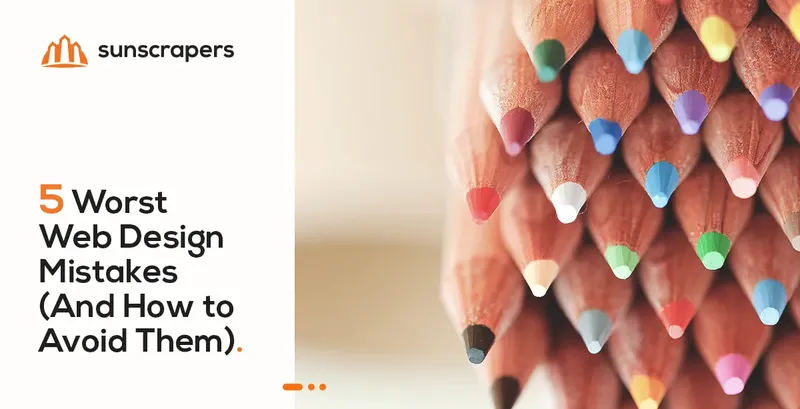 What's inside
Many web designers forget that websites don't serve as outlets for their creative energy. In fact, the primary objective of every website is solving a specific problem and addressing the needs of users. Giving creativity priority over usability always leads to trouble in web design.
Here are 5 worst web design mistakes and strategies to help you avoid them.
Too many branding elements
You may be tempted to put your logo all over the place. But that's not what good branding looks like. You can bet that visitors will be annoyed if they notice that you're trying to advertise your brand too hard.
Instead, you should aim for subtle branding strategies that don't rely on a logo or product images, but the total look of the website that corresponds to your visual identity. Develop a color palette and use it on every page to maintain consistency. Invest in quality visuals that communicate the benefits of your product without being explicit about it.
Going against the grain
Some web designers put originality first and believe that by breaking conventions and offering users an unusual experience, the website will realize its objectives. They couldn't be more wrong.
They choose horizontal instead of vertical scrolling or place the menu on the bottom instead of the top of the page, only generating usability problems.
Your visitors are tech-savvy and interact with online content every day. That's why it's smart to take their expectations and preferences into account, all the while relying on proven practices in web design.
A strongly visual layout
Making visuals the foundation for your layout is a huge mistake - unless you're creating an interactive website or a game. First, that type of design will never work to your favor regarding SEO. And you want potential customers to find your website quickly, right?
Another serious disadvantage of investing too much in visuals is the trouble when it comes to making that type of website responsive. Users access the internet from many different devices, so displaying one version of your site to all of them is bound to hurt its usability and result in poor user experience.
Forgetting about mobile
According to recent studies, 52% of internet traffic now comes from mobile devices – and the figure is rising by roughly 2% per quarter.
That's why developing a responsive web design is a prerequisite today – you simply need your website to look just as good on desktop as on mobile. Ignoring mobile and delivering desktop experiences to mobile visitors, you will fail to engage a vast segment of internet users.
Too much text
That point relates to usability as well. Visitors usually spend little time browsing websites - they scan written content and rarely engage in in-depth reading. Putting too much text on your website can easily discourage users from interacting with your brand.
Divide large blocks of text into shorter paragraphs. Boost the readability of your website copy by emphasizing your most important points.
Avoid these 5 web design mistakes, and you'll be sure to create an online space for your business that provides full usability to visitors while helping you build a strong online brand.