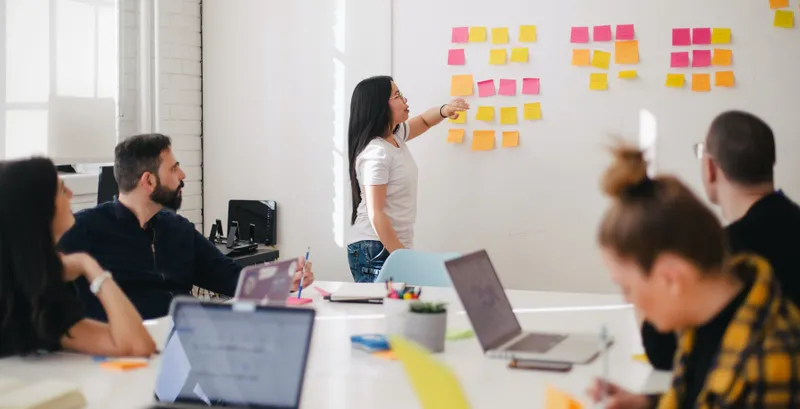 What's inside
Startups are born and die every single day.
I met many founders lured by a vision of success that involved millions of active users and nine-digit exits. We all know these success stories but often forget that they're the exception, not the norm.
That's why it pays to keep your feet on the ground. Just look at this report on "The Top 20 Reasons Why Startups Fail".
At Sunscrapers, we are often approached by founders who identified a solution to a common problem in their industries and wanted to build a product on its basis. Many of them realize that coming up with a great idea is just the first step and use their expertise to bring their venture to success.
Here are six lessons I learned from working with successful startup founders.
They're in it for the long run
Some founders give up after encountering the first setback. But only those who are determined to keep going for more than a few weeks or months become successful.
Successful entrepreneurs don't give up after the first failure. Instead, they transform it into a powerful lesson that feeds their success later.
Smart founders know that their idea is just a starting point and nothing stops them from changing it for a better market fit. Sure, pivoting on the original idea renders the entire process longer, but they are prepared for it.
Your takeaway:
Most of the time, it takes 1–2 years to build a business that works. Of course, that doesn't mean you need to be involved in it full time. But if you're toying with an idea, you need to be aware of how long it takes to make it a reality to avoid disappointment or frustration.
Also, don't stick to your original idea at all costs. I know it's hard to change a product you consider your baby, but there's no other way. Don't get too attached to your ideas; be ready to drop them if they're not working out for your users or product.
Pivots built giants like YouTube or Instagram. Instead, check out this brilliant post on why startup founders should embrace pivoting as a path toward success.
Planning matters a lot
I noticed that successful founders we worked with took extra care when planning their resources. They were never the ones who would spend their entire budget in one go on developing an MVP.
Here's what they do instead:
Smart founders usually dedicate up to 50% of their resources to development. Approximately half of that amount fuels their MVP, and they keep the other half for changes after the launch.
What about the other half of their resources? It's wise to build your startup operation up from the ground. Use them to generate traffic, promote your products, perform A/B tests, and conduct focus group interviews.
Smart move:
Instead of blowing your entire budget on an app with lots of fancy features, start validating the product to identify the market fit of your idea. Don't worry; you can always add all these extra functionalities later.
Here's how to deal with user feedback
Another thing I noticed is that successful entrepreneurs also know how to deal with user feedback.
So here's what usually happens:
After the launch, users will come to you with lots of feedback about your product.
Listen to their feedback, but you wait before you make changes at the cost of your long-term plans. As your product develops, many of these requests might become much less important than how users initially portrayed it.
That one is a valuable lesson.
I've seen founders fail when rushing to accommodate their product to user needs, only to discover that features they implemented were not as critical as they seemed and delivered poor ROI.
Set measurable objectives
In today's data-driven world, making business decisions based purely on intuition is a serious mistake that might lead a project to failure.
Successful founders adopt an analytical approach to product development. They focus on where their money goes and what is their return on investment for every single feature.
Lesson learned:
Start collecting relevant data as soon as possible. When setting your goals, make sure they are measurable and that you have the means to gather the information you need. That's how you'll be able to tell that your project is headed in the right direction.
Listen to others
As you refine your idea, it's smart to talk about it with as many people as possible. Intelligent founders keep an open mind and acknowledge other people's opinions because their stories contain engaging lessons or insider knowledge.
That type of feedback is precious, but that doesn't mean it should lead you to hasty decisions.
Key takeaway:
When partnering with a developer shop, remember that they are your tech partner and get their feedback as well. Choose a team of developers with experience in product development, not just coding.
At Sunscrapers, we play an active role in developing tech products by advising our clients on anything, starting from the cost of development and maintenance to the feasibility of their idea.
Remember that a startup is a business, not just an app
Even if development seems to be at the center of your game, remember it's only part of what will make your startup succeed.
A smart founder never forgets that development accounts for only a fraction of the startup vehicle, including areas like sales, marketing, operations, legal, and administration.
So here's what you should do:
Think about how you want to organize your business early instead of focusing only on the development part.
For example, consider which areas that aren't crucial to your business model could be easily outsourced (like accounting). Then start looking for suitable partners to handle them. Also, look at the market for potential co-founders or advisers who have complementary skills and could help your project kickoff.
Finally, be ready to take risks. At some point, your startup will require your attention full-time without offering you a 100% certainty of success.
Learning a lesson:
Every collaboration at Sunscrapers taught me something important about running a startup.
Smart startup founders always consider the potential risks involved in their operation. You don't have to be a pessimist to prepare for pessimistic scenarios. However, it's much smarter to do that rather than assuming optimistic scenarios always play out.
So keep your head in the clouds for creativity, but have your feet planted firmly on the ground.
That's what makes visionaries successful.
Got an idea for an app? Let's talk about your project.