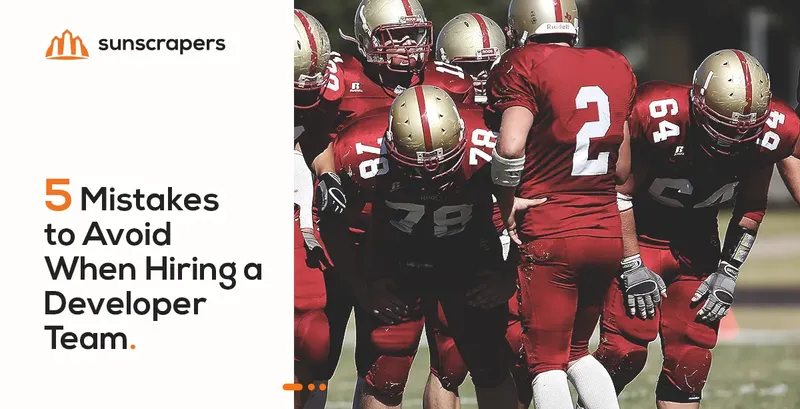 What's inside
So you've got an amazing idea for an app? Before you join the "app-preneurs" club, you'll need to select the right partner who will help realize your vision. And that's the tricky part.
I know what you're thinking:
How difficult can it be to find a development shop with so many developers around?
Sure, the market is full of development companies that create apps. But many entrepreneurs make some serious mistakes when hiring developers, eventually compromising the success of their product.
Finding the right team of developers can be challenging. Here are 5 critical mistakes you should avoid when hiring a developer shop to make your vision reality.
Shopping for estimates only
If you think that it's enough to provide developers with a short brief and let them start coding, you're making a huge mistake.
Apps are complex products. Every software development project needs to start with a functional specification document that provides a granular-level information about every critical deliverable.
You can tell a lot about a developer shop by the way in which they estimate your project. If they do that only on the basis of your brief, failing to ask any technical questions or requesting a technical specification, prepare for trouble.
You might get an estimate that simply sounds unrealistic – consider that as a red flag as well. One of our clients received estimates ranging from as little as 90h up to a smashing 2200h of work for the same project!
Searching for lowest rates without considering the cost/value ratio
That's not to say that pricing is completely irrelevant – every founder has some sort of a budget.
But what really matters here is the value you get for the money. If you're funding your idea by yourself, you're probably aware that choosing the cheapest possible option will involve certain sacrifices in quality. Is that what you want for your product?
Instead of comparing an offer to the cheapest ones around, consider picking a developer shop that offers a good cost/value ratio and will help you build the quality product you had in mind.
Picking a team that lacks business understanding
Software alone won't make your app a success. That's why you better avoid partnering with a company that has zero understanding of your business goals, the industry you're targeting, or the customers you're serving.
Remember that apps are ultimately used by humans. You need to create a value for customers or risk building a product nobody wants.
When developers don't understand the target audience, they won't be able to craft a product that serves the needs of these consumers. Pick a developer team that asks you questions about key business objectives, customer profiles, and niche specifics.
Thirsty for knowledge? Check 5 questions you need to ask before hiring a development team
Not verifying expertise and credentials properly
Many developer shops advertise their processes and practices, but that may be all just words.
That's why checking their expertise and credentials is a critical step in choosing the right team. Have a look at customer reviews posted on websites such as Clutch.co. Check the company's case studies and customer reviews. Hire a technical consultant to be present at meetings with developers.
If developers are actively engaged in their community and open source, consider it a good sign – you can be sure that their expertise is verified.
Searching locally, while talent is all over the place
When searching for a development shop, you don't want the one that operates nearest to you. You want one that understands your needs and can help you build a successful product.
Your priority is building a great app. Do whatever it takes to build it, even if it means collaborating with developers located miles away from you.
Geography is no longer an issue today – it's easy to bring stakeholders together online with modern communication technologies. Hire the best talent for realizing your vision, no matter if it's across the street or on another continent.
Avoid these 5 mistakes and you'll be on your way to building a quality product that addresses the needs of your target audience in the most efficient way.
Need some extra info about a developer shop? Have a look at Clutch.co, a platform that assigns scores to developer companies on the basis of client testimonials and reviews - and don't forget to check out our profile.