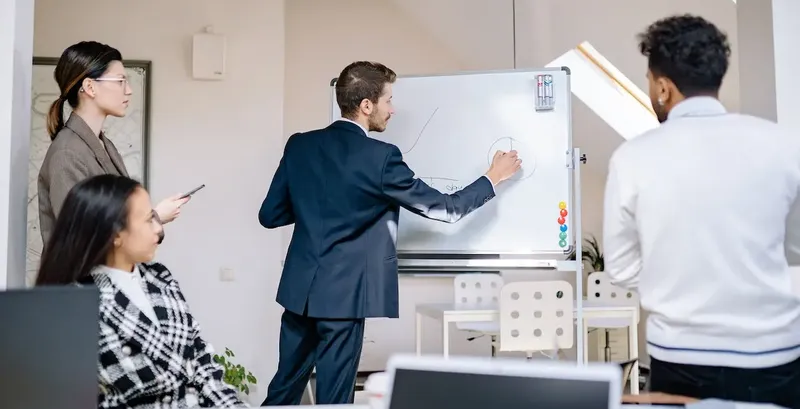 What's inside
In today's rapidly evolving technological landscape, businesses must keep up with the latest advancements to remain competitive. However, not all companies possess the necessary resources or expertise to stay updated with emerging trends. This is where the concept of CTO as a Service (CTOaaS) comes in.
CTOaaS is an innovative solution allowing businesses to access the expertise and guidance of a Chief Technology Officer (CTO) without the financial burden of a full-time hire. In this blog post, we'll delve into what CTOaaS entails, how it operates, and why it's worth considering for your business.
What is Chief Technology Officer as a Service (CTOaaS)?
CTOaaS is an outsourcing model providing businesses with a Chief Technology Officer on a flexible, as-needed basis.
A CTO operating under this model performs tasks remotely and part-time, granting companies access to a CTO's experience and knowledge without needing long-term commitment or the overhead costs associated with a full-time executive.
This solution eliminates the challenge of independently sourcing and hiring a competent CTO, which can often be daunting.
Key Responsibilities of a CTO
At its core, a CTO's primary responsibilities include managing and defining the company's technology strategy, ensuring alignment with wider business goals, and leading the technical team in strategy execution.
As a technology expert, a CTO significantly contributes to areas such as software development, system architecture, and data management, enabling the organization to optimize its technology operations and maintain a competitive edge.
As external CTO, they address various business challenges, such as internal technical expertise shortages, insufficient resources to maintain an effective technology strategy or the need for specialized skills for specific projects.
They provide strategic advice on tech investments, assist with software development and subsequent implementation, and ensure alignment between the organization's technology goals and its overarching business objectives.
Furthermore, an external CTO brings in-depth knowledge of the latest tech trends, tools, and solutions, enabling organizations to make informed decisions on technology investments that yield long-term benefits.
Why is Hiring an External Chief Technology Officer (CTO) Worth Considering?
Engaging an external Chief Technology Officer can be a prudent decision for any organization requiring expert guidance on technology-related matters.
This service proves particularly useful for small-to-medium businesses, startups, and non-profit organizations, especially those in their nascent stages needing to establish robust technology infrastructure. An external CTO offers a fresh perspective, helping organizations stay competitive within their respective industries.
How to Choose an External CTO?
Choosing the right external CTO is essential for ensuring your business receives the guidance and support it needs to succeed. With many factors to consider, from technical expertise to cultural fit, selecting an external CTO can be challenging.
In this context, it is crucial to clearly understand your needs and goals and to evaluate candidates carefully to find the best fit for your organization. In the following paragraphs, we'll explore some key steps you can take to choose an external CTO and find the right person to help drive your business forward.
First of all, define your needs and expectations. What are your goals for your technology strategy? What specific skills and experience are you looking for in a CTO?
When evaluating potential CTO candidates, look for individuals with expertise in your or similar industries. Consider their track record of success and their experience with technologies that are relevant to your business. Before hiring an external CTO, check their references thoroughly. Talk to other companies or individuals who have worked with them to understand their strengths and weaknesses.
Remember that a good CTO should be able to communicate complex technical concepts to non-technical stakeholders in a clear and concise manner. Look for a CTO who can communicate effectively and has experience working with teams of diverse backgrounds.
What is also important to consider is cultural fit. A CTO will be an important part of your leadership team, so they must fit well with your company culture. Look for someone who shares your company's values and can work well with your existing team.
Last but not least, remember to evaluate their approach to innovation. Your CTO should be able to balance risk and innovation and be able to identify new technologies and trends that can help your company succeed in the long run.
Ultimately, hiring an external CTO is a big decision, and it's essential to take the time to evaluate candidates carefully to choose the right person for the job.
Identifying If Your Business Needs an External CTO
If you find yourself asking this question, you probably need an external CTO. Remember that it all depends on your specific situation and goals.
Here are a few factors to consider:
Technical expertise: Do you or your existing team have the technical knowledge and skills necessary to make informed decisions about your company's technology strategy? If not, bringing in an external CTO who can provide guidance and oversight may be beneficial.

Time and resources: Do you have the time and resources to manage your company's technology infrastructure and strategy? If you're already stretched thin with other responsibilities, outsourcing this role to an external CTO may be a good option.

Business goals: What are your business goals, and how important is technology in achieving them? If technology is a critical component of your strategy, having an experienced CTO to help guide your decisions and investments may be invaluable.

Budget: Can you afford to hire an external CTO? Keep in mind that this can be a significant expense, so you'll need to weigh the potential benefits against the cost.
Conclusion
CTO as a Service is a valuable solution, providing businesses with access to the expertise and guidance of a Chief Technology Officer on a flexible and as-needed basis, without the expense of hiring one full-time.
To choose the right external CTO, you must clearly understand your needs and goals, evaluate candidates carefully, and ensure cultural fit.
Whether or not to hire an external CTO will depend on your circumstances. Consider your technical knowledge, available resources, business goals, and budget to determine whether this is the right move for your company.
Contact us
If you're looking for an experienced and knowledgeable Chief Technology Officer (CTO) to help guide your organization through technological challenges and opportunities, we would like to offer our services.
As ‌seasoned professionals in technology and innovation, Sunscrapers can provide the expertise and strategic thinking necessary to help your company stay ahead of the curve and achieve its goals.
Whether you need advice on new technologies, help with software development or implementation, or guidance on digital transformation, our CTO can offer you the insights and experience necessary to make informed decisions and drive your business forward. With a proven track record of success in the technology industry, we are confident that we can provide the value and expertise your organization needs to thrive in today's fast-paced business environment.
If you want to discuss your needs or learn more about how Sunscrapers can help your organization, please don't hesitate to contact us. We would happily schedule a consultation and explore how we can support your goals.