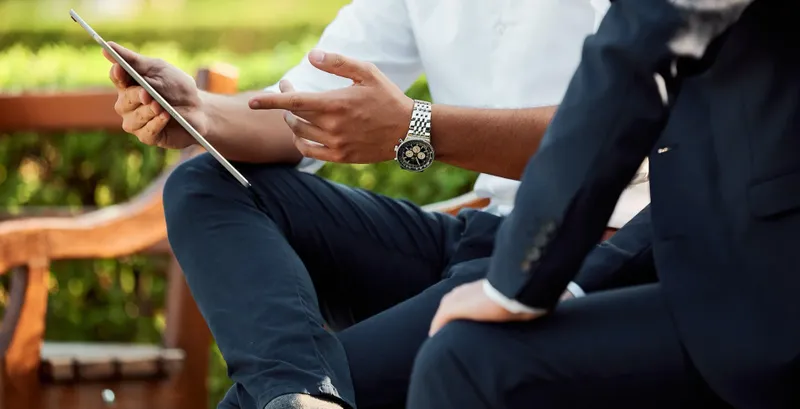 What's inside
In private equity (PE) and venture capital (VC), deal sourcing is the lifeblood of investment strategy. The ability to discover, track, and manage promising opportunities can significantly determine an investment's success. It's a process that requires considerable time and resources, calling for accurate industry tracking, extensive networking, and in-depth analysis.
Thanks to the digital age, innovative tools have emerged, making the process of deal sourcing more efficient and effective. These tools empower investors with data-driven insights and comprehensive overviews of markets, sectors, and companies.
This blog post explores five top deal-sourcing tools you should know about. As specialists in software development and digital solutions, we understand the value these tools can provide, and we aim to offer insights into their unique capabilities and strengths.
At the forefront of the deal-sourcing ecosystem is . Renowned as a comprehensive database for business research, Crunchbase offers insights into industry trends, investments, and news about global companies, spanning startups to Fortune 1000 giants.
Millions around the globe utilize this platform to track funding rounds, investors, merger and acquisition activities, leadership teams, and news for every notable company. Its strength lies in the depth and accuracy of the data it provides. The robust search filters simplify identifying the right companies for your portfolio.
Crunchbase empowers you with the necessary data to make informed decisions, streamlining your deal-sourcing process. It's an invaluable tool whether you're considering investments, conducting market research, or exploring growth opportunities.
emerges as a formidable contender in the deal sourcing landscape. Like Crunchbase, Dealroom offers many data, but its coverage extends to a broader range of data types.
The platform deeply delves into startups, scale-ups, and their surrounding ecosystems. Its unique selling proposition lies in its real-time intelligence, equipping venture capitalists, private equity firms, and strategy consultants with the capacity to make data-driven decisions.
The networking facet of Dealroom also stands out. The platform provides a space for users to connect with other investors and founders, nurturing a community of like-minded professionals.
With private market investors in mind, is an investment research platform designed to address deal-sourcing challenges. This tool equips investors with the necessary data to discover, manage, and track opportunities at scale.
SourceScrub's unique methodology stands out. The platform merges technology and human curation to verify the data accuracy of millions of private companies. Their data integration feature with major CRM systems makes it an excellent deal origination and tracking tool, creating a seamless bridge between your internal processes and the external data landscape.
Another key player in the deal-sourcing arena is . This data platform is designed for venture capitalists, private equity firms, corporate development, and strategy teams. It combines the power of artificial intelligence with a team of seasoned analysts to identify opportunities across various sectors and geographies.
Tracxn excels in offering in-depth analytics, helping investors spot promising companies early on. The platform * provides sector-specific newsletters and curated lists* to keep you updated about market changes and emerging trends, ensuring you stay ahead of the fast-paced investment landscape.
Last but not least, brings a unique spin to deal sourcing. The platform utilizes artificial intelligence to facilitate fundraising and M&A activities. It transcends the traditional database concept by directly connecting companies, investors, and financial intermediaries.
Cyndx's algorithms curate a portfolio of investment opportunities that align with the investor's specific criteria. This advanced approach reduces the time spent on sourcing, enabling you to focus more on deal negotiation and closure.
Conclusion
Deal sourcing is a vital part of the investment strategy in venture capital and private equity. The right tools can provide a significant advantage by making the process more efficient and accurate.
The tools mentioned above, namely Crunchbase, Dealroom, SourceScrub, Tracxn, and Cyndx, offer unique capabilities and benefits. Depending on your firm's needs, you can leverage these platforms for effective deal sourcing and informed decision-making, a robust database, real-time intelligence, verified data, deep analytics, or AI-driven deal matching.
As specialists in software development and digital solutions, we understand the importance of having access to reliable, up-to-date, and comprehensive data. These tools offer a unique way to streamline your deal-sourcing process and make more informed, confident decisions.
Stay tuned for the second part of this blog series, where we'll explore more about these platforms and how they can be effectively integrated into your investment strategy.
Our software development company is committed to providing our clients with the digital tools and solutions to stay competitive in this ever-evolving business environment. We're here to help you navigate the complexities of digital innovation and data management, empowering you to make the most of the opportunities the digital age presents.