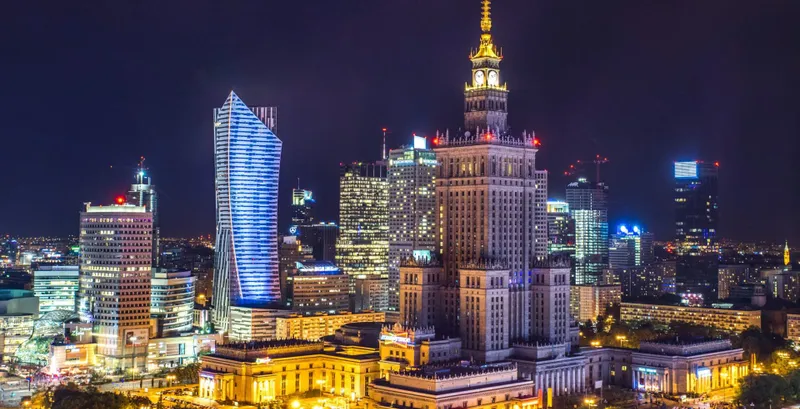 What's inside
Today, companies don't outsource to cut costs. They do it because they want access to highly skilled experts who know the latest technologies and can bring in a lot of value into internal IT teams. If you've been toying with the idea of hiring an IT staff augmentation agency in Europe, you probably started by checking your options. Here's a little hint: There's no better country to hire IT experts than Poland.
In a recent report from Clutch.co, an independent review site that collects verified feedback from clients about businesses registered in areas like software development and IT services, the company said the following: 
"Poland offers a wealth of B2B talent in Eastern Europe. […] The firms in our report have demonstrated excellence in both the results they produce and their commitment to customer service. We're excited to explore more of what Poland has to offer."
During the last decade, Eastern Europe has become a popular outsourcing destination - replacing China or India, a great perk, especially for companies located in Western Europe and the United States. Poland stands out among them as a unique outsourcing opportunity that brings together an outstanding skill set and a modern technology environment. 
Why is it worth considering Poland as the best source of talented software engineers? Here are a few good reasons.
Talent and expertise
Polish software developers are recognized for their coding skills around the world. In HackerRank's programming skill survey of the best developers in the world, Poland reached the top three together with Russia and China. 
Just take a look at international programming contests and hackathons, and you'll often see Polish teams and programmers landing the highest spots. 
Polish software developers are hard-working and creative. Moreover, since Polish software development companies have been attracting clients from all around the world, local IT professionals are used to working in international settings and following all of the key industry standards. 
Access to top education
Poland wouldn't have its highly skilled technical workforce if not for the excellent level of education. Polish universities offer high-quality courses in Computer Science, IT, and many stem relevant areas. They make sure that young software developers get opportunities for acquiring new skills by teaming up with industry leaders and organizing placements and internships. 
According to Stack Overflow, Polish developers are the most experienced ones by the time they enter the job market.
Every larger Polish city with a university has a profusion of meetups, hackathons, and workshops organized by both software development companies and education institutions. Since many software development agencies in Poland want to attract young talents, they offer entry-level positions that focus on professional development and mentoring. This is how Poland got to develop a large community of skilled IT experts and software developers. 
Manageable time zone differences
Since Poland is located right in the heart of Europe, it makes an excellent outsourcing destination regardless of where you're located. 
When collaborating with companies in Western Europe, it's either a none or just one-hour time difference (for example, with the UK). What about US-based companies looking for software developers from Poland? Prepare for a six-hour time difference with the East Coast and a nine-hour one with the West Coast. 
Poland's strategic location in the Central European Time zone helps to manage the daily workflows and meetings smoother than teams located in countries such as India or China.
Reachable locations
You can reach every major Polish city with a 1 or 2.5-hour flight from anywhere in Europe. Flights from the US usually take between 9 and 12 hours, depending on whether you fly from the East Coast or the West Coast. 
Another key advantage of the country's location is its proximity to major European financial centers like Frankfurt, Paris, and London. For example, if you're building a financial services solution and would like to keep close to the industry, Polish software developers are at your fingertips. 
Compliance and security
The fact that Poland is a member state of the European Union is critical, especially for companies that need to meet strict security and compliance regulations. 
As a member state of the EU, Poland follows IT and data security regulations like the General Data Protection Regulation (GDPR). When teaming up with a Polish IT staffing company, you can be sure that your data is in safe hands. 
Polish software developers are familiar with the relevant regulatory structures and bills wherever necessary and follow global industry best practices and standards.
Easy communication 
Working with Polish software developers and IT specialists is easy because they usually speak English really well. Poland always ranks high for English skills in the EF English Proficiency Index. In the most recent edition of the index, Poland landed the 11th position out of 100 countries included in the ranking.
Professional culture
Polish development teams have experience in following global and industry standards, practices, and methodologies such as agile software development for the Scrum framework. Did you know that Poland is home to some of the most important agile events, such as the AC Conference? 
Knowing different workflows, tools, and practices is just one side of the coin. The other concerns the local professional culture. The fact that Poland shows many cultural seminaries with its Western neighbors makes collaborations smoother. The local customs and work habits aren't that much different, and they don't affect the quality of teamwork and communication during the project.
If you're looking to hire a Polish team of software developers or just need one or two talents to boost your project, get in touch with us. We have delivered skilled software engineers to companies located in the United Kingdom, Sweden, the United States, Australia, and many European countries such as Sweden or Denmark.