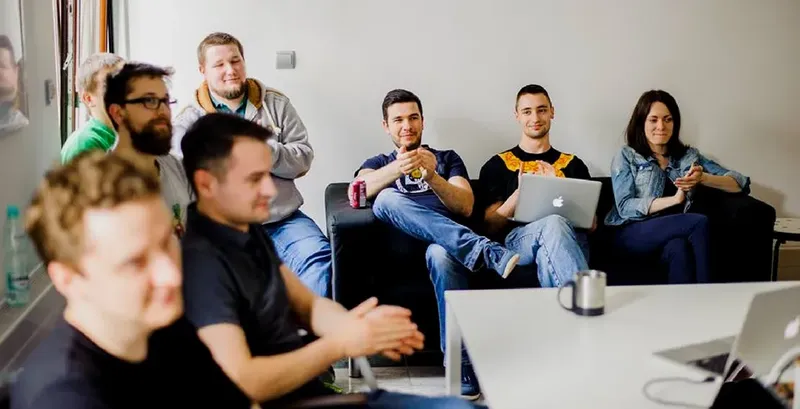 User experience took quite a few interesting turns in 2017. UX trends like personalization, minimal design or video solidified their presence on the UX landscape as others left the stage.
So what's in store for UX designers in 2018? Let's find out!
Here are 8 key UX trends that are bound to explode in 2018.
Animation
There's no denying that 2017 took animation to the next level. Designers just couldn't resist the trend and animated everything that was possible to animate. But powerful trends evolve over time and animation is no exception.
2018 is bound to bring some reflection on the part of designers as they will be likely to focus more on creating fewer but more valuable information animations. I expect that animations will be used principally to support user journeys through apps and websites.
Mood as Interface (MAI)
According to Chase Buckley, one of the future UX trends that will gain steam in 2018 is the Mood as Interface technology. The idea is simple. Interfaces are becoming increasingly personalized, and with today's advancements in wireless EEG technology, designers will be able to take advantage of brainwave biometrics to create customized interfaces that change in accordance to the user's moods and emotions.
Buckley considers Mood as Interface technologies as possible newcomers to the mainstream this year, enabling unprecedented user control of content. For example, apps might soon be able to respond to users' mood and present them with content they want to see in their newsfeed. Mood as Interface will find potential applications in e-commerce too where color palettes, custom advertisements, and lookbooks will change on the basis of users' feelings in a particular moment.
Personalization and user-responsive design
I'm sure 2018 will take personalization to yet another level. We are already designing content not only on the basis of user location, but also their age, gender, interests, income, and many other factors.
Creating personal experiences is going to be a critical objective of web designers who will need to keep a close eye on innovative interactive technologies more than ever.
Some of the personalization features we might see in the future are in-app messaging features based on how users typically interact with the app, age-responsive capabilities that adjust the font size on the basis of the user's age, or login memory features to help users quickly access apps.
Voice interfaces
According to Google, in 2016 around 20% of all mobile searches were carried out with voice activation. Another study showed that more than half of American teens and 41% of adults use voice search every day.
Together with the explosion of virtual assistants like Siri, Alexa, and Google Now, 2018 will bring us more emphasis on voice-activated interfaces. Typing may quickly become a source of friction for app users and voice activation helps designers remove it efficiently. That's why it's likely that UX designers will embrace the technology and start to rely more on voice activation than ever before.
Synesthetic feedback
Another exciting trend Chase Buckley mentioned in his recent article is haptic feedback that expands standard interfaces by incorporating tactile cues to draw users in and direct their behavior. As interfaces expandand accommodate multisensory experiences (think AR/VR) and synesthetic feedback is the next step.
The Building 8 Research Lab of Facebook is already working on adding synesthetic feedback to the platform by converting language into vibrations. Even if that sounds like something straight from a sci-fi movie, there is no denying that UX designers will be looking for new ways to touch and engage users with products.
Push toward omnichannel
Instead of concentrating on the device, UX designers will now focus on the user surrounded by multiple devices that communicate with one another. 2017 was a great year for the Internet of Things, and the technology's expansion is already changing user expectations regarding their experience across different channels.
UX designers are aware that users want a consistent experience across these technologies as disruptions cause user frustration and possible pushback. That's why designers will be focusing on creating seamless, truly omnichannel experiences like never before.
Biometric authentication
Biometric authentication methods have been with us for a while, but they are becoming more accessible, and in 2018, we will see biometrics applied for all kinds of identity management purposes.
It's the job of UX designers to consider the security for end-users, as well as businesses that incorporate biometric authentication as a unique form of personal identification that allows bypassing the traditional login requirements that may sometimes cause friction.
Whether it's facial, voice, or fingerprint recognition, you can bet that biometric authentication will be all over the place in 2018.
Further development of chatbots
It's safe to say that 2017 was the year of chatbots. But that doesn't mean their presence will only solidify in 2018. In fact, we will see more chatbots popping up all over the place. And no wonder: chatbots reduce customer service costs, all the while offering faster response rates, uninterrupted customer service, and development of a closed loop circle of learning for organizations.
Gartner predicts that by 2020, around 85% of all customer interactions will be carried out without the presence of humans. Adding a human touch to design will in 2018 mean creating conversational interfaces. And bots will be there to help designers build such customer interactions.
2018 is going to be an exciting year for user experience so keep an eye on these trends to make sure that your organization takes advantage of all the developments in the field.