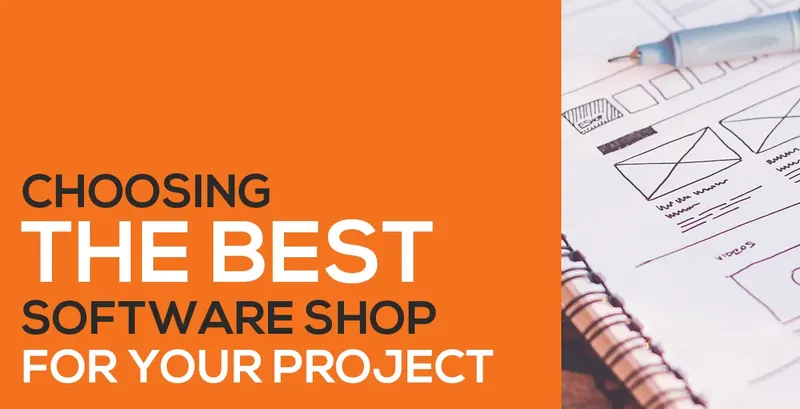 What's inside
Choosing the best software shop from a variety of available companies is a headache. What factors should you look into while searching for a perfect one?
Quality
Many software shops say that they are striving for technical excellence, but how can you really verify it? The best way to check the quality of delivery is to dig a little bit in company's previous work. Every respectable web development shop should have a portfolio or case studies published on their website. It's also a good idea to check their experience with relevant types of projects, like marketplace, e-commerce or SaaS applications. Another reliable indicator of software's shop quality are code samples - most preferably open source libraries. And when you're happy with everything, just talk to the CTO or software developers working in the firm; such conversation should give you the final reassurance.
Communication
Everyone knows that communication is a significant aspect when it comes to every collaboration. Keeping in touch with a remote software shop is particularly essential, because you want to be up to date with your project and be sure that the communication is hassle-free. Your first impressions might be an important factor while choosing the best web development shop for your business. How is the company presented on the internet? Look at their website, blog and online presentations. When your first reaction is favorable, try to contact the software house and check their response speed and style. They don't bode well if they respond to your e-mail after two weeks - cooperation can be even worse in the future. If you're impressed maybe it's worth to schedule a call or a meeting and find out how the software shop will handle communication while working on a project. A face-to-face contact gives you a wider perspective.
The frequency of contact and methods of communication tell a lot about the development shop's soft skills. Do they prefer to write e-mails or rather make calls? Do they use any tools to make cooperation easier, like instant messengers (for example Slack) or project management apps (Trello, Jira)? Maybe they go for video conferences? Regardless of their preferences, make sure that the web development shop is able to communicate in a way that suits you.
Contract
Usually at this stage you should have a list of companies you would like to work with. We don't have to tell you that formal requirements play a huge role in the process of choosing the best one. First thing is the project management methodology, which defines the way you pay for services - you can choose between agile and waterfall (here you find our blog post about it - Agile vs. waterfall: what's better for my business?) Next thing is the budget - you probably know it already, so now you have to reveal a dev shop's fee. Finally - the agreement. Is it easy to understand? Or maybe it arouses some suspicions about the future cooperation? It's important to dispel doubts and discuss every part of the contract if something is vague for you. Not only to protect yourself from fraud, but also to explain uncertainties before the partnership starts. Contract is usually a formality, but those small things might have huge impact on your decision.
Now you know what things you should consider while choosing the best software shop for your project. Maybe there are other important elements that are crucial, feel free to let us know about them! Also, remember to contact us if you need software engineers (Python developers or JavaScript developers) to handle your project - Sunscrapers' team is waiting for you!